Cancun beach hotels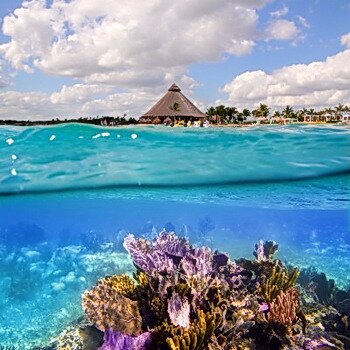 Mexico has become a hotspot for international tourism, with many people coming for the amazing white sand beaches and the even more amazing Cancun beach hotels. Cancun is part of a project initially created in 1974 by the World Tourism Organization in association with the Fondo Nacional de Fomento al Turismo. In just a few shorts years Cancun was transformed from virgin forests and overgrown shores into the popular tourist destination we all know and love today.
Cancun and the coastline south of Cancun, known as the Riviera Maya, has some of the most beautiful Caribbean beaches found anywhere on the Caribbean sea. The hotels in Cancun offer top amenities including spa services, wireless internet, fitness center, room service, water sports and of course, beautiful ocean views.
When researching hotels in Cancun all inclusive resorts should definitely be on your radar. All inclusive resorts generally provide everything you need during your stay including food, drinks and even some activities and entertainment with your nightly rates.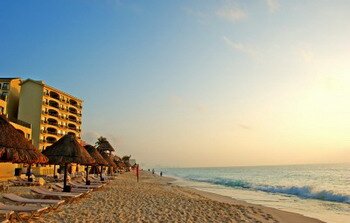 Any map of Cancun hotels you find online is sure to include places such as the Marriot Cancun, the Westin Resort and the Hyatt Regency although there are many smaller, lesser known places that will cost you less and still provide access to the ocean and downtown Cancun. The advantage of staying at a larger Cancun resort is that many of them offer on-site car rental and some of them even have a golf course at the resort.
One of the biggest and most popular resort chains in Cancun would have to be Palace Resorts. They boast eleven all-inclusive resorts along the white sands of the Caribbean Sea. They have become well known for their extremely high customer satisfaction rate which makes them one of the best hotel groups in Cancun. They have resorts in Cancun, Cozumel, Isla Mujeres, Riviera Maya, Riviera Nayarit and even Punta Cana in the Dominican Republic to choose from.
Club Solaris is another popular choice among all-inclusive Caribbean resorts. They offer many vacation packages to choose from for their resorts which include Royal Solar Los Cabos, Royal Solaris Cancun and GR Solaris, also in Cancun. Club Solaris is known for amazing deals. You can stay for as low as $50 per night and they even offer an ocean view guarantee. To make it even better, they also offer times of the year when kids stay free. They have an amazing gourmet buffet and a la carte restaurants open all day to satisfy your hunger day or night. They even offer nightly entertainment for all the guests included at no additional cost.
Another popular chain, Real Resorts, is also known to offer amazing amenities at any of their resorts including The Royal Cancun, The Royal Playa Del Carmen, Gran Caribe Real Cancun, Gran Porto Real Playa Del Carmen and the Real Playa Del Carmen. They are great for business travelers as they offer a business center accessible to all guests as well as a large convention center to hold your next big corporate function.
With so many great hotels in Cancun to choose from, you really can't go wrong when you visit one of the most beautiful places in Mexico. Cancun offers amazing value for your vacation dollar, so it's no wonder it's become such an internationally known tourist destination.